Reality TV—before reality TV was cool...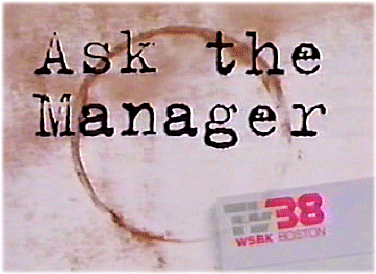 1974(?)*-1999
An affectionate tribute to what used to be
Boston's most unique local television program
This page is dedicated to the memory of Clifford D. Allen, 1947-1999
updated October 2014 with links to YouTube videos
---
Interview shows, children's programs, sports presentations, and more—in the heyday of independent stations, local programming was king. Each television market had their own regional series peculiar to the area. It might be a farming program in an agricultural area, a beach program at a station set along the shore, urban programs for urban concerns.

Or, like Ask the Manager, it might be an entity all to itself.

Before it took a too-long detour being "UPN38," homogenized by a stable of cookie-cutter United Paramount programming, WSBK-TV38 was originally owned by the Storer Broadcasting Company. George Storer bought WIHS, which belonged to the Archdiocese of Boston, and changed its name to WSBK (Storer's stock ticker identification symbol) on August 24, 1966. After the death of Storer's founder, George Storer, WSBK-TV38 was sold to Gillett Communications.

In its prime, 38 was a solid independent station with a management staff that had an excellent sense of what viewers desired in "alternative programming" against network offerings. For sports lovers, they carried Boston Bruins hockey and Red Sox baseball. For the kids there were the high-pitched antics of clown "Willie Whistle" and a stable of classic cartoons. For the movie lovers, TV-38 created the weeknight Movie Loft, with behind-the-scenes commentary and only two commercial breaks. (In 1978, The Movie Loft made history—and a few waves—by carrying the disturbing but award-winning Vietnam-era movie The Deer Hunter in its entirety.) A fine lineup of syndicated comedy series and the always popular Three Stooges shorts and Hogan's Heroes rebroadcasts rounded out the station's programming.

But the real institution at Channel 38 was this weekly, well-beloved Sunday night (and later Saturday morning) informational series which aired for over 25 years.
 

So What Was Ask the Manager All About?

"ATM," as it was affectionately known, was the brainchild of WSBK's original general manager, Bill Flynn, who, having seen a similar show airing on a station in Texas, decided he wanted to broadcast a Boston version. It was to be a program where viewers could feel free to write in with their opinions of the station's schedule, their suggestions for programming, and their questions about "television broadcasting in general." Flynn himself would appear on camera to answer viewer letters for a half hour, the letters being read by an offstage "viewer advocate."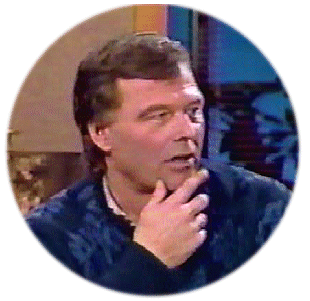 The letter-reading position eventually fell to Dana Hersey, the long-time announcer of TV38, who later became host of The Movie Loft. (Dana also found time for Hersey's Hollywood, interviews with top movie performers and previews of upcoming theatrical films, and the short-lived and much lamented We Don't Knock, an offbeat interview series. The "ubiquitious Dana" was everywhere at WSBK; he even read the news.) Dana's voice eventually attracted so much viewer curiosity that people clamored to see what "the viewer advocate" looked like. Thereafter Dana read letters on the set.
(I never saw a Flynn show, but Bill's alleged tight budgets were joked about continually in later episodes. Once Dana was asked how Christmas was celebrated at the station during Flynn's tenure. With a straight face and in somber voice, Dana quipped "When Bill was here we didn't have Christmas," and a spate of Ebenezer Scrooge jokes followed. But they were only jokes: Flynn's true character can be gauged from the Bob Griffith article linked below.)
 
Mr. Dimino and Mr. Hersey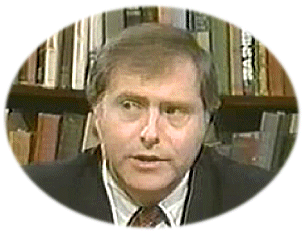 When Bill Flynn was transferred to Storer Broadcasting's Cleveland station in 1977, his successor as general manager was affable Joe Dimino. It was during his tenure that ATM took on the aspects of more than just a simple little question-and-answer show. The atmosphere on the set became free enough that station activities and news about the cast and crew's personal lives invaded the set. Every month or so viewers' letters would complain about Joe and Dana's clowning, and they would settle down for a few weeks to rigidly answer questions, then the situation would relax and start the cycle once more. But these humorous and often personal asides are what made the program special—the series was just plain fun.
(This informal and somewhat manic style was well counterpointed by a short-lived similar program on Boston's "other" independent, Channel 56, WLVI [formerly WKGB], Meet the Manager. Once a week WLVI's manager and his trusty sidekick would sit behind a table and read and answer letters. The poor manager looked downright uncomfortable on camera and both manager and reader were so somber about their duties that the show lacked the joie de vivre that made ATM so entertaining.)
In my own case, as with many other viewers, initial exposure was on an irregular basis. I saw my first ATM in August of 1978. Soon it became a weekly habit just "to see what those crazy guys are up to." One week might be a decorous question-and-answer session, the next a cornucopia of jokes and mischief. Often Ask the Manager was funnier than what was being served as "comedy" on the network schedule (especially if you knew all the inside jokes)—and yet the viewers always had their questions answered and often learned a great deal about the broadcasting process as well. The process of syndicating series, the workings of equipment like the teleprompters and the duplex projectors, the goings-on at the annual broadcasters' meetings and other industry practices were all explained at one time or the other.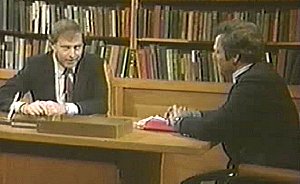 There was always something going on ATM in those days. It was during Joe's tenure that the semi-annual Ask the Manager tour of the station was instituted. Dana, with a cameraman trailing behind him, would wander from top to bottom and room to room in TV-38's broadcast building on Leo Birmingham Parkway (starting at Mr. Birmingham's missing memorial plaque on the traffic island outside the building to answer the perpetual question "Who was Leo Birmingham?"†), buttonholing everyone from the accountants to the film editors. During the tour we'd get to see the tape and editing machines and the control rooms, the sets and the offices, and the many people it took to put together our favorite TV-38 programming. No dull fact-and-figures fling this, but amusing and instructive at the same time. In one memorable segment, Dana took us into the "largest office in the building," reserved for the general manager, which turned out to be the roof furnished with a plastic chair, table, and beach umbrella; this sort of clowning was typical of the show's irreverant style.
(On another tour Dana tripped and fell on camera in one of the hallways. Undeterred, and to show himself ept, he rose and did a cartwheel down the hall. Just business as usual at Ask the Manager.)
Then there were always those special shows, the ones ATM fans recall with great affection. Longtime viewers probably won't forget the edition where Dana and Joe demonstrated the difference between the two formats of the then "newfangled" home videotape recorders. Joe prowled between the two machines like an affable Newfoundland dog, finally rousing the courage to hit a button, which turned out to be the tape ejector. Not knowing anything about the machines, he stared at it in horror, and Dana as usual just made things worse by feigning exasperation and protesting "Now look what you've done!"
Other "theme" shows included chats with representatives from other stations and studios, a conversation about the colorization of black and white movies (long before the practice became at first popular and then reviled), and an explanation of how the station transmitter worked, complete with a trip to the transmission tower in Needham with engineer Doug Wheeler. Plus Ask the Manager producer Cliff Allen often took the show "On the Road" to various malls in the Boston area to film viewers asking their questions live.
 
Enter Dan Berkery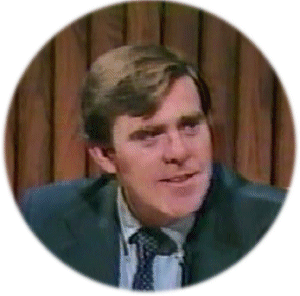 In April 1982, Joe was given a promotion and was transferred to WSBK's sister station WJKW in Cleveland, Ohio. He was succeeded as general manager by Dan Berkery, the former station manager. (Dan once joked his job as station manager was very serious: he was in charge of the security at the tower in Needham and he built The Movie Loft set). Joe's final show was broadcast Easter weekend, and for several weeks thereafter ATM left the air, perhaps because the last time Dan had substituted for Joe on the set of ATM, in November of 1981, he had a case of stage fright so severe he could barely speak ("deer caught in the headlights" doesn't begin to describe it).
In May the show returned with Dan at the helm. Although he seemed uneasy during his first few months, his self-consciousness eventually vanished, and by the time November of 1982 rolled around, he was clowning around on the set with Dana in fine form with his own jokes. It was during Dan's tenure that impromptu basketball tosses were held on the set, the Doo-Doo Bird made its first appearance, and jokes flew so fast and furious that people would inquire if Dan had had "his medicine" yet that morning. Ten years later, Dan was so relaxed on the set that on one occasion he proceeded to "catch" imaginary fish with the Popiel Pocket Fisherman a stagehand handed him.
 
Familiar Faces...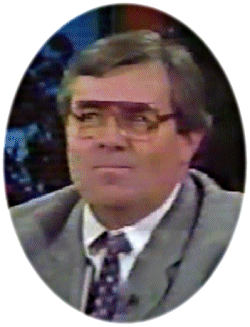 The program featured other regulars throughout the years. A fixture in the series run was Cliff Allen, ATM's affable producer (as well as TV-38's film director for a time) who was once teased for his appetite for doughnuts. (Cliff later made some lifestyle changes and lost a great deal of weight.) Actually, Cliff was teased about darn near anything, whether it was about movie promos or station schedules or being "yes man" to whatever general manager was at the helm, but the ribbing was good-natured and Cliff, gentleman that he was, took it all with a grin. During Dan's tenure he often substituted as viewer advocate, later he did many tours of duty behind the desk; he was also the keeper of the letters that were read on the series and was frequently ribbed for the manner in which he highlighted pertinent passages in viewer correspondence.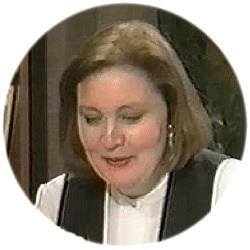 Two regular substitutes for Dan were sales manager Stuart Tauber and then head of programming Meg LaVigne. Like every member of the ATM cast, Meg came in for her share of jokes, whether about her college alma mater or her taste in boyfriends. Lest anyone think Ask the Manager was a "guys only" club with the exception of Meg, program director Leslie Savage was also a familiar face in the manager's chair, and the viewer advocate position was for many weeks manned (no pun intended) by the puckish Carla Nolan. Many of the young women who worked behind the scenes were also featured, the most famous being Kim, the floor director. Too shy to appear on camera (except in one show where she sidled onstage to fix a microphone), Kim nevertheless became an offstage favorite.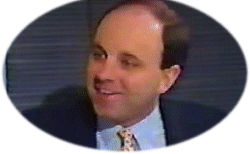 Dana Hersey was a mainstay of the viewer advocate seat for many years. During one six-months sabbatical, however, he was replaced by sports announcer Sean McDonough. Sean had a dry, offbeat sense of humor that occasionally seemed out of place on the program—and at other times fit in perfectly. He soon learned to bedevil Dan the way Dana had, and in one memorable show after Dana returned, Sean was in the advocate's seat making life miserable for Dana, who was taking Dan's place, in a neat turnover of events! (Carla also took her turn bedeviling Dana in one show that left even the crew in stitches.)
No one seemed to be left out in ATM's run: even the set electrician, Ray Boyer, had his day, hosting the show during his final week at the station before setting out on his own.
Familiar guest stars on the series included the manager of WCVB Channel 5, Jim Coppersmith; Doug Wheeler, one of the station engineers; Upton Bell, manager of WLVI Channel 56, and Nat Segaloff of the Boston Herald.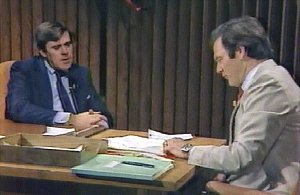 On the other side of the fence there were the regular correspondents: "the Cat Lady" (who always wrote on feline stationery) to the medical doctor always highly critical of any station change, from Wendy and Lisa, the seemingly perpetual Tufts undergrads who were never identified further, to the "Four Guys Who Love TV."
...oh, yes, and yours truly, The Collie Lady, as well.
Oh, and TV-38's audience knew what they wanted—and what it seemed they mainly wanted was The Three Stooges. The Larry, Moe, and Curly questions never stopped during ATM's run. Over the years the Hogan's Heroes questions waxed and waned, the viewers sent in appalled letters about syndicated acquisitions from Madame's Place to the universally loathed Studs (a purchase Dan kept blaming on Meg), the Charlie Chan and Sherlock Holmes fans rejoiced or wept as their favorites aired or "rested," debates about Lenny Clarke's humor came and went, but the Stooges mail kept on coming. Fans sent Stooge episode guides, suggestions to buy Stooge books, comment and criticism about Stooge marathons (or lack of such) from day one to the last gasp.
Gradually the cast and crew's personal lives began to integrate into the program. Joe had started the trend by mentioning Dan Berkery and his eight children on the 1980 Christmas program (by the time Dan became manager there were ten junior Berkerys). We followed Dana's courtship and eventual marriage to his wife Joan, and then learned about his children Foster and Amanda as they entered the Hersey family scene (Dana's wedding pictures and photos of the children both got airtime.) Kim brought photos back from her cruise, Cliff's run for city selectman was followed, Joe teased Dana about his country house and unusual "pets," Stu talked about his dogs—and once he unexpectedly substituted for Dan, still wearing his National Guard uniform, an event that caused no end of jokes.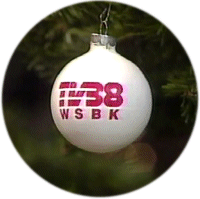 Christmas in the Air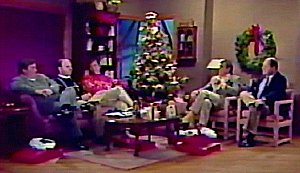 The ATM Christmas episodes were an annually awaited event. Any vestige of discipline left on the set vanished and anything could happen. At various times:
Dana and the crew presented Joe with a gift which turned out to be a polka-dotted designer tie Joe had given away to a crew member.
Joe and Dana giggled so much over their cups of eggnog on the 1981 Christmas shows that viewers suspected someone had added a bit of "Christmas cheer" to the Hood's holiday beverage in their drinking glasses. (This show featured a nifty fireplace set with two comfy-looking wing-back chairs, which unfortunately only lasted a few years.)
On the same 1981 show Dana read a letter mentioning Rudy Cheeks, a writer for the Providence Eagle, who, the writer said, hoped Joe would mention his name and his column on ATM. Joe, already having trouble keeping a straight face, intoned, "Rudy Cheeks, Rudy Cheeks, Rudy Cheeks," which sent the two men into gales of laughter for several minutes.
On one of Dan's Christmas shows several crew members brought out low-fat desserts which were sampled on the set; on yet another Dan led the crew in singing Christmas carols.
After one Christmas show the viewers wondered if the Berkery girls were going to leave their dad coal in his stocking after Dan started complaining on-camera about a type of lingerie his pre-teen daughters kept leaving around the house.
One memorable show featured Dan, Dana, Sean, Cliff, and Stu talking about the male view of Christmas shopping and celebrating. Dana brought "the guys" joke gifts (promotional material from one of his Hollywood trips) and Sean came in for a ribbing when he reported he didn't buy gifts, but gave money instead.
Another Christmas fixture of the 1980s was Dana talking about his annual weekend-before-Christmas middle-of-the-night shopping expedition to L.L. Bean in Freeport, Maine (Bean is open 24 hours).
 
End of an Era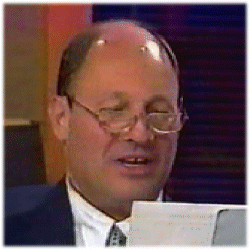 TV-38's affiliation with UPN, unfortunately, was the first knell of doom for Ask the Manager. Dan Berkery left the station soon after the UPN alliance, leaving Stu Tauber in the role of general manager. Although genial enough, Stu never appeared totally comfortable on the ATM set, despite regular substitutions for Dan. As UPN's influence over the station grew, Stu began to perturb longtime viewers by continually puffing and praising UPN offerings, while his answers about non-UPN programming were generally dismissive and disrespectful, which angered the fans of those series. The Ask the Manager set, once a simple office-type venue, was suddenly peppered with posters advertising UPN shows, and a portion of the program was often given over to previews of upcoming series' episodes.
In 1996 Ask the Manager fans had an inkling the end was near when the series was reduced to once-a-month broadcasts, wedged between public service programming about social problems facing Boston. It continued in this manner, its time and date frequently changing without warning, until the final broadcast in January 1999.
 
Do You Own Any Ask the Manager Souvenirs?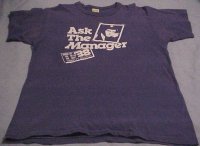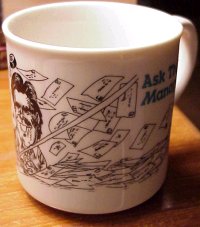 Yes, there is such an animal—and we're not talking about a UPN38 mug or a Boston Bruins schedule.
In 1980, an Ask the Manager T-shirt was issued; dark blue with the ATM and TV38 logos and a photo of Joe Dimino in white. During Dan's tenure, there was also a coffee mug, white ceramic with an amusing cariacture of Dan sitting among letters drawn around it.
 
Were You a Longtime, Real ATM Fan?
Here's an even dozen trivia questions:
What sort of farm-type animal did Dana raise?
When Dan got annoyed at viewer comments, what was his comment?
What breed of dogs did Stu Tauber own?
What was the significance of "Rodman Ford"?
What did Kim do that made her so infamous with ATM viewers?
What famous movie elicited weeks of complaints on ATM after they forgot to show one of the reels?
In what town did Cliff become selectman?
Who claimed he was Willie Whistle at Joe's farewell luncheon?
Carla didn't make it any easier for Stu the day he rushed on the set wearing his National Guard uniform. What did she do? (Dana actually did the same thing.)
When someone substituted for Dan on ATM, where did they say he was—and where did they imply he was?
What 1980s nationally syndicated show was Dana a regular on as a movie critic?
What acclaimed ABC network mystery series did Dana make a cameo appearance on? What part did he play?
The Ask the Manager Album
Excuse some of the fuzzy screen caps. Our UHF television antenna didn't have a booster on it until 1983.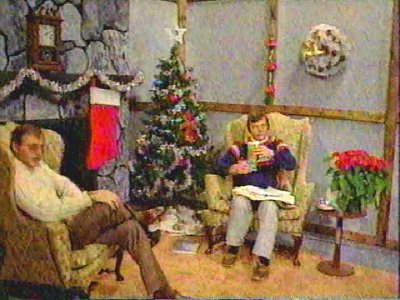 Joe and Dana on the Christmas set, 1981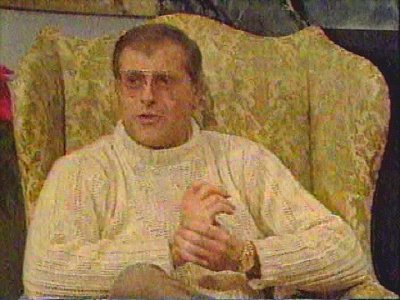 Joe in the comfy chair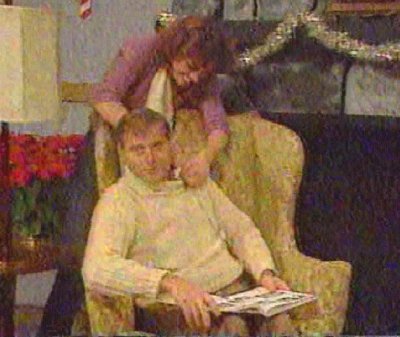 Kim hated being seen on camera, but here she gets caught fixing Joe's microphone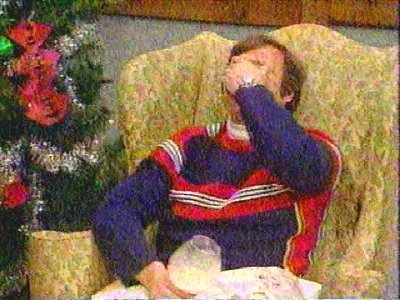 Dana reacts to the infamous "Rudy Cheeks, Rudy Cheeks, Rudy, Rudy Cheeks!"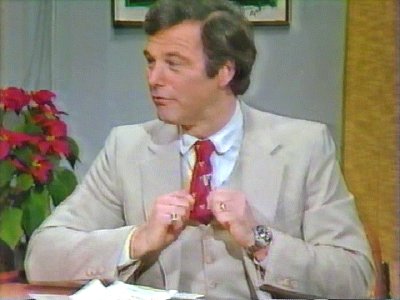 Dana shows off his candy cane tie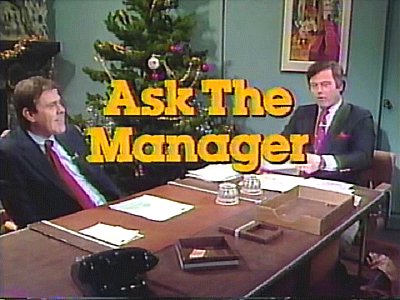 Opening shot from a Christmas show

An intense shot of Dan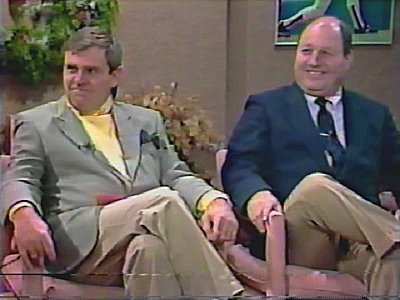 Dan and Stu on Christmas show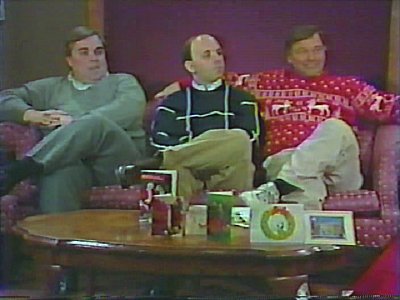 Cliff, Sean and Dana on the same Christmas show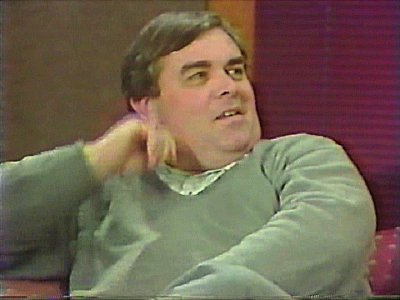 The inestimable Cliff Allen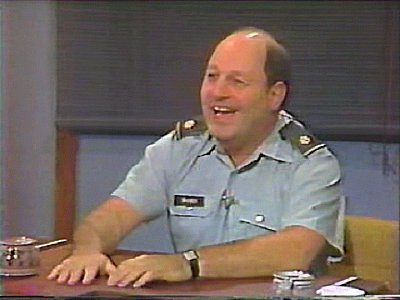 Stu in National Guard uniform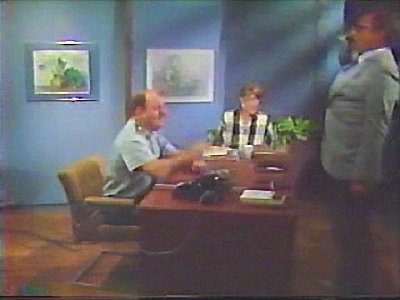 Dana salutes Stu...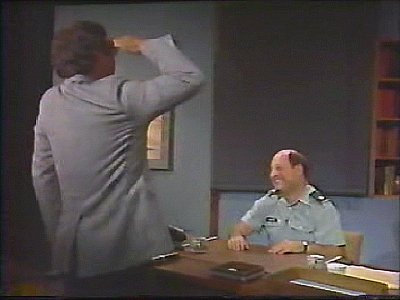 ...and Stu's reaction
There's a screen shot of Carla saluting on the Trivia Answers page.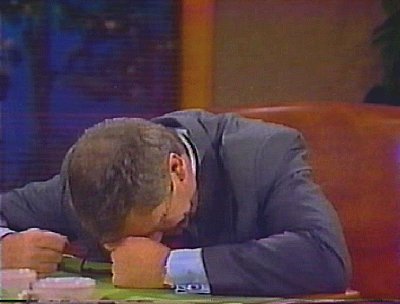 Dan loses it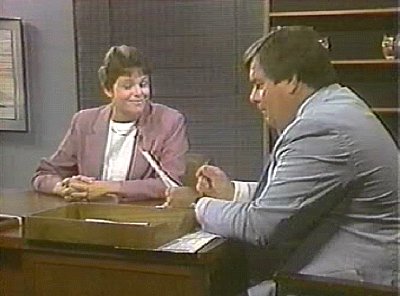 Leslie Savage with Cliff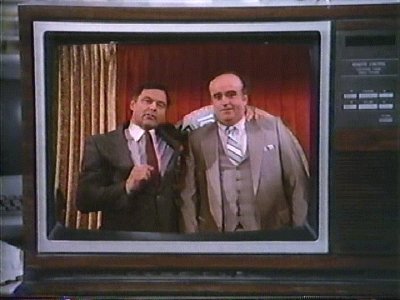 Dana as a lottery host on an episode of Spenser: For Hire with Ron McLarty as Frank Belson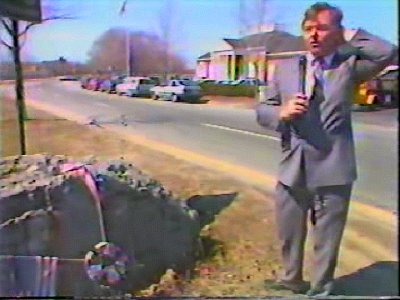 Dana on one of the studio tours, outside 83 Leo Birmingham Parkway at Leo Birmingham's memorial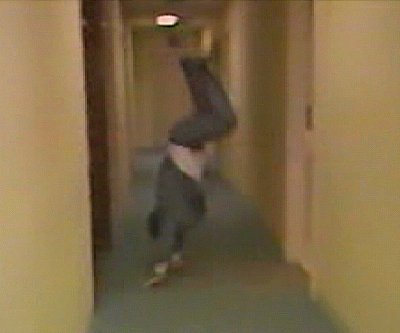 Dana does a cartwheel during the tour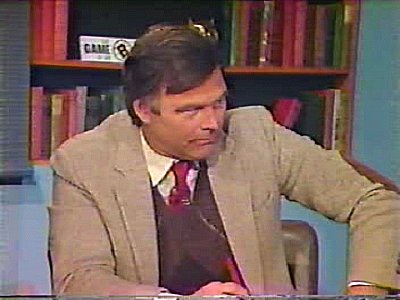 Dana stares down Sean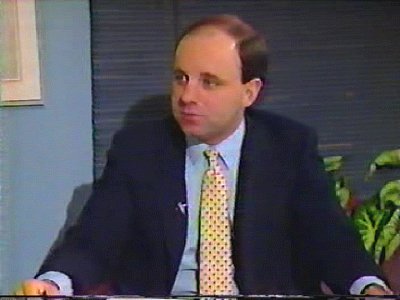 A sober Sean
 
Ask the Manager Video Memories
Some kind soul has posted these on YouTube so we can recall all the fun.
1978 Ask the Manager promo
Pythonesque Ask the Manager promo
1981 studio tour: Part 1 and Part 2
Joe's final show: Part 1, Part 2, Part 3, and Part 4
(How well I remember...I cried all weekend.)
Dana, Cliff, and that somersault in the hallway
Described as "unscripted silliness" between Dan and Dana
Going to "Paris" with Dan and Dana
Dan and Dana talk about the history of Ask the Manager
Tour with Dan and Stu's office
Dan loses his seat—literally (with Dana and Cliff)
Dana and Sean carry the day: Part 1 and Part 2
A snippet or so with Meg and Cliff
A complete episode of We Don't Knock: Night Life at Kenmore Square
We Don't Knock: "The Great Limo Race"
(Billy West of Futurama is doing the Howard Cosell imitation.)
You knew something good was coming on when you heard this!
A small taste of Channel 56's Meet the Manager
If you search on YouTube for "Dana Hersey" and "WSBK" you will find Movie Loft intros, sports promos, etc.
Whatever Happened to...
No details on Joe Dimino, Stu Tauber, Carla Nolan or Leslie Savage are presently on the web. I understand Joe went to Florida after working at WJKW in Detroit. Stu was last known to be working as a consultant for WUNI-TV in Worcester. The last word on Doug Wheeler (2000) was that he was the producer of the New England Sports Network's (NESN) Bruins broadcasts. A correspondent has informed me that Stu has been working since 2001 as a consultant at a company called Entravision.
William J. Flynn died in June 2002 from cancer. Boston Globe article following his death.
ATM's beloved Cliff Allen passed away after a heart attack a few weeks following Ask the Manager's final broadcast. Cliff's obituary.
Dana Hersey's spec page at Voice123.com (nice photo!)
Dan Berkery was one of the heads of something called Mongoose Media when I last searched, but their web site has vanished.
Meg LaVigne was last spotted as general manager of WUPA69, the UPN affiliate in Atlanta, GA.
Sean McDonough did a stint at CBS Sports, then had several years of sports announcing for the Red Sox until NESN failed to pick up his option in 2004. The last time I heard about Sean, he was working at ESPN, according to correspondent Desmond Hobson.
Ray Boyer ("Electrician to the stars!" for those of you who saw that hilarious installment back in the early 1990s) was last heard of as working at PixMix.
UPN38 is no longer located at 83 Leo Birmingham Parkway. That address is now the headquarters of Viacom in Boston. Bo Zabierek, former set designer at WSBK-TV, works at the facility (at last correspondence), which now houses three Boston FM radio stations.
Ask the Manager was the property of WSBK TV-38. This is a fan page. No copyright infringment is intended. Any opinions stated are my own and do not reflect the thoughts of the creators or producers.

Send me an e-mail
---
---
* I was given to believe that ATM began in the late 1960s, but on the final show Stu Tauber said the series was 25 years old. Until someone definitely confirms the year, it is uncertain.
† Birmingham was a state senator. Leo Birmingham Parkway was built in 1937.